J's Place, The Jeffrey Dallas Gay Jr. Recovery Center, helps people seeking recovery and those in long-term recovery build relationships and skills that help them thrive, succeed – actually have fun – without the use of substances. 
J's Place is led by people in long-term recovery and serves those with substance use disorder and their friends and families.  The Center provides meaningful connection opportunities, support services for developing life skills and a safe place for gatherings and wellness activities for those affected by substance use disorder.  
We provide one-on-one peer coaching support with a certified peer recovery coach, employment assistance, resume building, connections to local resources and treatment facilities, and regular social and service events. Additionally, we host multiple support groups such as Alcoholics Anonymous, Narcotics Anonymous, Veterans Recovery Support, Parent Support, Eating Disorder Support, and many others. 
 By teaching recovering individuals and their families how to spend healthy, sober time together, J's Place is making a difference in individuals and their families' lives.  
Coronavirus Response and Action Plan
J's Place is committed to the wellness of our peers and staff.  In person meetings are held outdoors and we offer many virtual meetings as well.  For those seeking peer coaching or struggling with recovery related issues, we are happy to meet on-line or speak over the phone. Please do not hesitate to contact us at our office number (678)316-0403.
Jordan Hussey – Executive Director – Extension 100
Email: Executive.Director@jsplacerecovery.org
Rebecca Wagner – Recovery Coach – Extension 102
Email: Recovery.Coach@jsplacerecovery.org
Gregory O'Hara – Recovery Coach – Extension 101
Email: outreach.coordinator@jsplacerecovery.org
As always, the CARES Warm Line is available for peer coaching daily until 11:00pm at (844)326-5400.
J's Place is a community and as such acknowledges our collective responsibility to public safety while maintaining our fierce commitment to empowering recovery in Hall.
To our peers, you are not alone. Please stay connected.
UPDATES: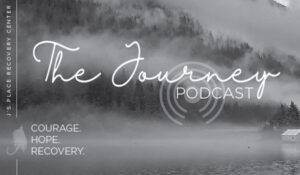 CHECK OUT OUR NEW PODCAST: The Journey