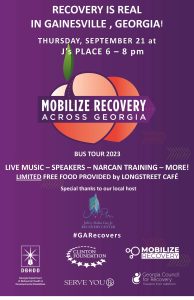 Over 800,000 Georgians are living in long-term recovery from a substance use disorder and Mobilize Recovery Across Georgia is designed to bring those Georgians together to celebrate recovery, educate individuals on harm reduction and recovery resources. This engaging and uplifting bus tour is designed to bring together Georgia policymakers, local officials, and the 800,000-strong recovering Georgians.
From 2019 to 2021, drug overdose deaths in the state of Georgia increased by 55.9%, driven in no small part by the continued and tragic rise of opioid overdose deaths. Georgia is simply a snapshot of a nationwide epidemic that affects countless lives, families, and communities each year.
MOBILIZE RECOVERY
Those who are impacted by such a disease know that addiction affects everyone who is close to the struggling individual parents, children, spouses, coworkers, and fellow members of their place of worship. It can often take a community to help someone into recovery, including doctors, spiritual leaders, family members, and mental health professionals. That is why in September of 2023, the Clinton Global Initiative's Overdose Response Network, part of the Clinton Foundation, is launching Mobilize Recovery Across Georgia, a travelling bus tour that will cross the state of Georgia during National Recovery Month.